Security Products & Services Since 1990
Serving Medina and surrounding counties for over thirty years, Securitec Security Systems provides solutions to our clients by first understanding their security concerns and then, developing a customized design and appropriate approach to address their needs.
Knowing each client has unique circumstances and there is no such thing as a one-size-fits-all solution, Securitec offers a team of professionals from start to finish. Highly skilled account managers, knowledgeable design engineers, and talented technicians are all part of the effort to solve a client's problem. Our dedicated customer experience team is available to provide ongoing "24/7" support.
Located on Medina Road in Granger Township, Securitec was founded in 1990 by two men with a used utility truck, growing our staff to over fifty dedicated employees and a fleet of vehicles today.
Securitec specializes in electronic security products and services for commercial, industrial, and institutional projects, including burglar and fire alarms, access control, digital video surveillance, and a host of other products to meet our client's needs. Securitec's projects include retail businesses, small convenience stores, commercial properties, auto dealerships, senior care facilities, schools and correctional institutions.
Although Securitec's local focus includes Medina and the surrounding counties, we also install security solutions throughout Ohio and beyond, having been involved with prominent projects for the Department of the Interior, Veterans Administration, and at Seattle-Tacoma International Airport. With a long and impressive resume, Securitec never forgets where it all began, and continues to call Medina County its home and base of all operations.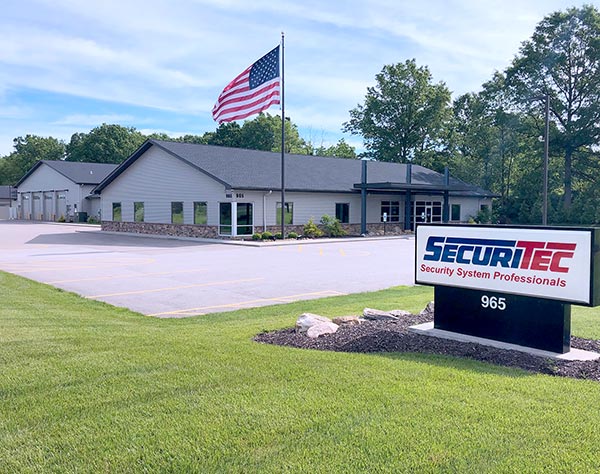 Certifications
Certified AXIS Gold Partner Dealer
Certified Bosch Fire Dealer
Certified Bosch Security Dealer
Certified DMP Security Dealer
Certified CENTRAK
Certified DSX Access Control Dealer
Certified Hanwha Security Dealer
Certified Kantech Security Dealer
Certified SALTO Access Control Systems Dealer
Certified Tyco Exacq Elite Partner
Licensed by State of Ohio Fire Marshal
Thank you for sticking to your word concerning our monthly fee. Thank you for alerting police when the front door was left ajar.

We feel confident when leaving the house.

Please let Dave, Ian, and Chris's supervisor know these men were professional, kind, super nice, and very patient. Brian Vargo is really great to work with also. Securitec should be very proud to have these men as employees, they represent the company and industry extremely well.

Thank you for your continuous service over the years.

"We are very pleased with your service and we worry a lot less when away knowing our home is monitored 24/7."

I wanted to take the time to commend your employees and thank you for the great service we have received so far with our 2 projects your company has been involved with here at the parks. Eli always goes above and beyond making sure we receive the correct equipment that fits our budget and your installers have always taken the time to answer all my questions.

It's great to see a local company I can trust to not only do the job, but to do it the right way.

Thanks again!

The installers were wonderful and went above and beyond. You have a great team. We have been working on reprogramming residents gym passes and it is running smoothly.

Thanks so much for getting us set up with an updated system.

Thank you for EVERYTHING!!!!! The guys have been nothing but WONDERFUL!!!!

Your company will be recommended to others.

Thanks again!

I would absolutely recommend Securitec to other businesses looking for security and other related systems. They offer a variety of products which meant we didn't have to hire multiple vendors to satisfy our needs. Their bid process was simple and the prices were fair.

It seems a lot of vendors dabble in the security space, but Securitec's technicians have an expertise in their products, which is essential to ensuring the systems are installed and function correctly.
Let Securitec custom design a security or fire alarm system for your business or home.