Securitec will create a daycare security system based upon your unique challenges.
We offer a wide variety of daycare security equipment, highly experienced technicians and 24/7 monitoring.
Daycare and Preschool facility managers work hard to build an atmosphere that is fun, creative and promotes learning for children while also providing the needed daily care of meals, rest, play and above all safety.
There are many areas to consider when creating a safe facility for children, parents, staff and visitors while also accommodating service providers, contractors and deliveries to the facility.
Camera Systems
Camera Systems can be configured in many ways; provide live feeds, record locally or to cloud storage environments. Video surveillance cameras are recognized as the best deterrent to theft, vandalism and other crimes.
Record indoor areas such as lunch and play areas, parking lots and outdoor play areas.
See a complete perimeter around the daycare facility to ensure only authorized personnel are on the property.
Consult with Securitec's design team for peace of mind that the surveillance needs of your daycare facility is protected with the most innovative products on the market.
Fire Alarm Systems
There are many factors which dictate the type of fire alarm system required for your daycare facility. Local fire departments, building departments and your insurance company should be consulted to determine specific fire alarm system requirements.
Securitec has experience and a wide range of equipment available to design and install a custom solution for your unique daycare operation.
Access Control Systems
Access Control Systems and equipment can be designed in many ways. Knowing who is in your facility and where they can go is vital to your operation.
Identify visitors to the daycare facility and limit access to specific areas at select times.
Record entries into restricted areas for possible investigations. Access control can be automated door locks, video identification of front doors and delivery areas or access to areas with sensitive materials that have limited personnel access.
Monitoring the entry and exit of doors and windows is extremely important. These can be internal or external doors as needed.
Identify doors accidentally left ajar to avoid accidents and curious toddlers looking to explore.
Securitec has a design that is right for your facility and operation. Experienced designers and installers will work with your facility team to design and install the right solutions for your business.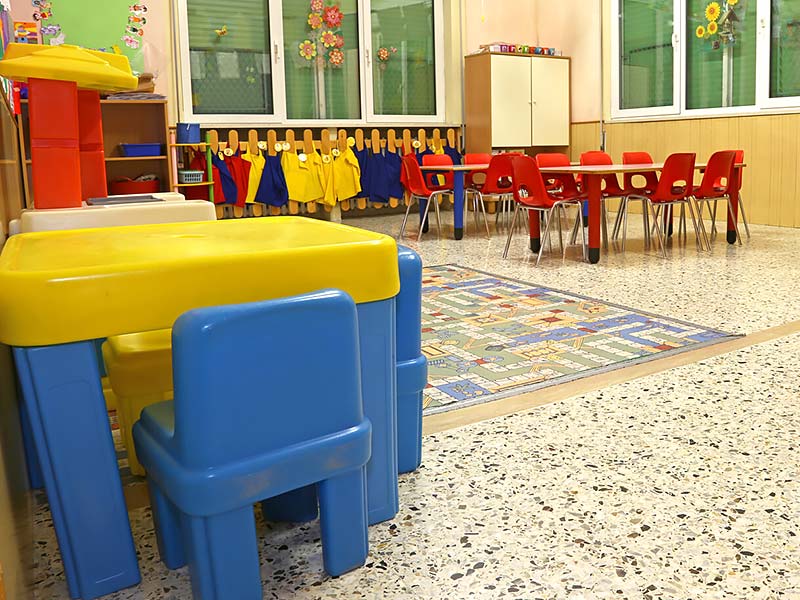 Intercom and Paging Systems
Communication is key in running a smooth day care or preschool operation. In emergency situations, two-way intercom systems can be lifesaving. Room to room intercoms and paging systems help keep the day's schedule on track.
Panic Buttons
Emergencies happen. Calling for help at the push of a button while under duress saves critical time. These can be hidden or highly visible to the public, silent or ring an alarm. Panic buttons can be configured with differing options for specific locations.
Securitec has been in business for over 30 years designing and installing custom daycare solutions for facilities of all types, sizes and operations. Contact Securitec with your security, fire alarm, camera, access or communication needs for a custom solution designed for your unique business.
Discuss your security challenges with experienced professionals who have custom solutions.