Business Security Systems from Securitec – Designed to Your Unique Requirements.
Effective and affordable solutions for the most challenging business security needs.
From simple systems for the sole proprietor to complex solutions for multiple locations, Securitec will custom-tailor a solution to protect your business. Our easy-to-use business security systems make protection a simple process.
Today's business security systems offer a wide array of capabilities, equipment and options. It may be cliche but your security is only as strong as the weakest link.
Are there blind spots?
Are your cameras effective in all conditions?
Is the system itself secure?
Is it easy to operate on a daily basis and will the equipment survive constant use?
Are updates and support available?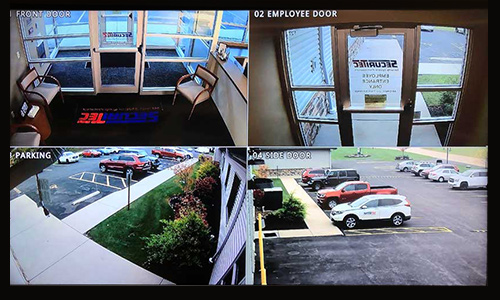 Design
This determines whether your security system will be truly effective – or not
Anticipating problems is the first step in solving them.
Typical issues include unauthorized entry, theft and injury claims.
Equipment
Will your system grow with your business?
Can it be upgraded to keep pace with technological change?
Installation
Securitec's trained, experienced technicians ensure your system will function as designed.
Monitoring will reduce but not eliminate issues. Positive identification relies upon the right equipment properly installed in the most effective locations.
Operation
Constantly monitored or reviewed after an incident, an effective security system should be relatively invisible until needed.
Controls should be easy to access and operate for designated personnel.
Service & Support
At some point all equipment will need to be serviced, upgraded or replaced. Securitec doesn't outsource either technical service or customer support.
Start a conversation. Create the most secure & cost-effective solution for your business.