Libraries and public buildings have specific security needs and requirements.
Libraries need to be open and inviting, yet safe for patrons and staff.
Planning security operations is key to proactively address potential life safety and property loss concerns for public buildings and libraries. Design and installation of security systems must be unobtrusive and sensitive to aesthetic considerations. Fire alarm systems and security systems monitored around the clock and designed to work in unison help provide a safe environment for all.
Securitec partners with your organization:
Design and installation per codes, regulations and aesthetic considerations
Continuous monitoring of your security and fire alarm systems
Regularly scheduled inspection intervals
Maintenance for your security and fire alarm systems
Securitec has the unique capabilities to ensure libraries meet security system requirements and guidelines specific to their operations and building structures while maintaining the architectural integrity of their unique designs.
Ensure you have the proper security equipment and protocols in place. Securitec has the design professions and range of equipment to configure a security system for your unique situation.
Regular maintenance and system inspections is the best way to ensure your system will always perform to peak operation levels and keep you in compliance with State and local codes along with NFPA 72, NFPA 101 requirements for Fire Alarm and Life Safety equipment.
Securitec delivers complete systems designed to maintain the life, safety and premises protection required to meet the standards for your library or public building:
Access control
Video surveillance cameras
Continuous monitoring
Fire alarm
Intrusion protection
Panic buttons
The system protection equipment used by Securitec professionals can maintain secure communication lines and battery backup in case of power failure.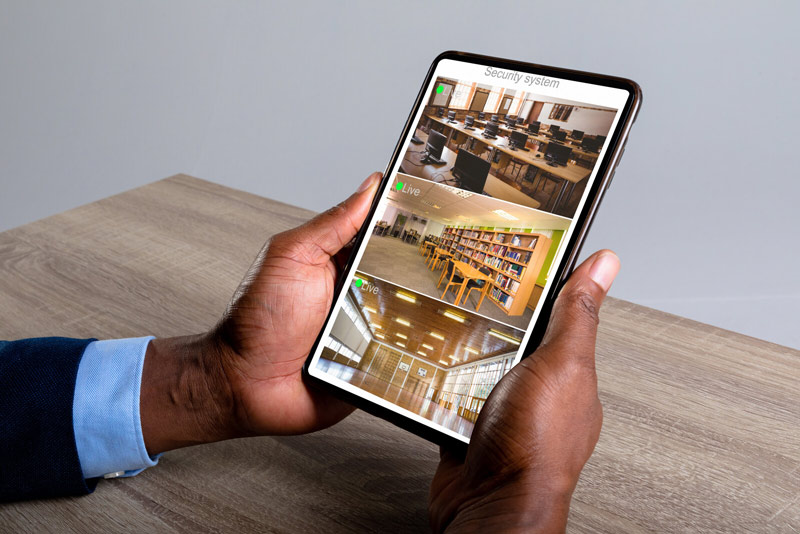 The American Library Association (ALA) publishes specific guidelines for library security, based on case studies and best practices used throughout the country.
The ALA outlines their Duty to Protect as:
"Physical protection of staff, patrons, building, contents, collections, and surroundings from fire or smoke damage, water damage, vandalism, theft, and unauthorized copy of materials."
Securitec uses the latest security system technology with UL listed and FM approved components to accomplish your duty to protect objectives. The ALA recommends consultation with a professional security system design team to help library managers understand the benefits of various security systems as they relate to unique configurations of specific building designs.
Read the document: Library Security Guidelines – provided by the LLAMA BES Safety and Security of Buildings Committee
Discuss your library & public building security with experienced professionals offering custom solutions.